I'M TEARING UP JUST AT HIS SPEECH. GO OBAMA! THIS IS HISTORY IN THE MAKING! WHAT A WONDERFUL END TO A BEAUTIFUL BEGINING!
Mood:

ecstatic

Yeah, but it sucks that I'm sick again. I think I may go to the doctor tomorrow because I think I could possibly have strep. My throat hurts so incredibly bad that I didn't sleep last night. I'm on some mucinex and advil and it's sort of helping...I guess makes it more tolerable...but I'm still feeling like complete shit.

So the past few weeks have been pretty much an emotional rollercoster. Friends acting shitty...me feeling like all my friends are gone...and in these times I know who my true friends are when they call me at 3am in the morning and let me cry to them over the phone (Ahem Katy!! :) She knows what's going down and if you care to know...feel free to call me but I don't want to write it all down here. It's not some HUGE drama...but def. does not make me feel good. But a big thanks again to Katy because you always know how to make me feel better! I guess that's what 10 years of friendship can do to people, right? :) And on a side note....I do not mean that all of you reading have not been good friends to me!

I definitely need a vaca and I'm going to turn in my request for vaca tomorrow! Wish me luck! I hope to go see Danielle within the next month and then finally going to Texas to meet Ryan's family. We've decided to have Thanksgiving there and if I my work approves my time off....I'll be there for nearly a week. I'm super excited since 1). I'll get to meet Ryan's family and friends and 2). I've never been to Texas! I love seeing different parts of the country and it usually leaves me feeling that much more thankful for living in such a beautiful and diverse place like California!
Ryan and I also may get away one weekend before that. Leave on a Friday night and come back on Sunday. We're thinking we MIGHT do SoCal and if I do...I will tell all you SoCal friends when I will be there!

I love the song Dig by Incubus...just so you all know that! (listening to it right now).

Okay, I'm gonna go rest more!
So, I'm sick again. AWESOME! No...I know it comes with the job. (and Alida...I will so email you...I haven't forgotten!)
Mood:

sick

Music:

Incubus-Dig
Ohhh and I forgot!

LISA LAMPANELLI WAS AMAZING!!!!!!!!!!!!!!!!!!!!!!

I don't remember the last time I laughed that hard! She is SOOOOOOOOOOOOO funny! I had tears falling from my eyes cause I was laughing SO hard! People were cheering, laughing, clapping, everything. It was HILARIOUS!!

Just thought I'd share! :)
Mood:

bouncy
Only in America ......do drugstores make the sick walk all the way to the back
of the store to get their prescriptions while healthy people can buy cigarettes
at the front.
Only
in America .......do people order double cheeseburgers, large fries, and a diet
coke.
(to the defense of people like me...those extra 300 calories from the drink does make a difference!)
Only
in America ....do banks leave both doors open and then chain the pens to the
counters.
Only
in America ......do we leave cars worth thousands of dollars in the driveway and
put our useless junk in the garage.
Only
in America ......do we buy hot dogs in packages of ten and buns in packages of
eight.

Only
in America ......do they have drive-up ATM machines with Braille lettering.
EVER
WONDER ...

Why
the sun lightens our hair,
but
darkens our skin ?
Why
women can't put on mascara with their mouth closed?
(I TOTALLY CAN WITHOUT OPENING MY MOUTH)
Why
don't you ever see the headline "Psychic Wins Lottery"?

Why
is "abbreviated" such a long word?

Why
is it that doctors call what they do "practice"?

Why
is lemon juice made with artificial flavor, and dishwashing liquid made with
real lemons?

Why
is the man who invests all your money called a broker?

Why
is the time of day with the slowest traffic called rush hour?
Why
isn't there mouse-flavored cat food?

Why
didn't Noah swat those two mosquitoes?

Why
do they sterilize the needle for lethal injections?

You
know that indestructible black box that is used on airplanes? Why don't they
make the whole plane out of that stuff?!

Why
don't sheep shrink when it rains?

Why
are they called apartments when they are all stuck together?

If
flying is so safe, why do they call the airport the terminal?
P.S I totally love America! I got nothin' but American Pride! :)
Mood:

amused
Massachusetts takes a different path.
Our proposed bill, MA H.1844, will add height and weight to the existing anti-discrimination law!
YOU CAN HELP!
There will be a vital hearing at the State House in Boston on March 25 at 2 p.m. The more people there the better! Please come with friends and show your support. If you have a story of discrimination, you can testify!
MA residents, please contact your local legislators, ask them to support the bill and call you back with their stance:
http://www.mass.gov/legis/
or
http://www.wheredoivotema.com/bal/myelectioninfo.php
or 617-722-2000
For more information, contact NAAFA board members:
MarilynWann: marilyn@fatso.com or
Jeanne Toombs: jeanne_toombs@naafa.org
IT'S NOT IN CA...BUT COME ON!
Mississippi legislators recently proposed a bill that would ban fat people from eating in restaurants! Fortunately, it was withdrawn.
Mood:

amused
2 hours of sleep is no fun!
Mood:

sleepy
www.mix1049fm.com
Go under "meet the personalities" or something like that and I'm there! It's really exciting! That's all for now!
So guess who is on the Mix website? ME!! Woo hoo! The website address is
Mood:

bouncy


Even though I'm getting tired I need to update my Sims 2. DAMN, I sound like SUCH A dork! What is happening to me??
Not only did the power go out today for over an hour but I missed Heroes! I have been waiting for two months and I missed it! WTF! I hope to find it online. I think I will. Maybe I'll watch it tomorrow. HMPH! That made me really angry!
Mood:

annoyed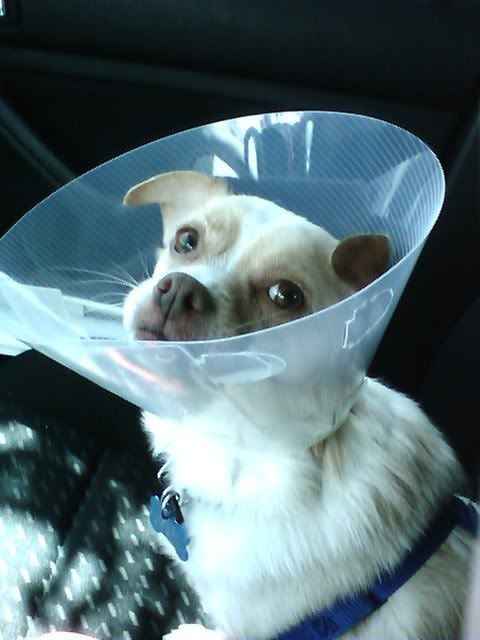 That cost me $224. He has a hot spot right above his tail..so now he has to wear that whenever he's not around me or anybody else for that matter. He cries constatly when he's in it and pretends like he cant walk. I have to say though, he's the cutest thing in the world when wearing and when not wearing it.
Trying SO HARD to find a job! Looking online to all the Santa Rosa stations and going further then that as well. I got an email from one, saying he'll keep me in mind. Yeah, that's a classic line. Another one saying there's potential. Better then the "keeping you in mind" but still not going to hold my breath.
Having dinner with Katy, Christina, Sara, Val, Laura and I'm not sure if anyone else is going. I'm still on my diet and I'm still broke as hell but some things are needed! Time with my girls especially!
May be in Marin on Sunday. Maybe not. I like going to Marin. I feel at ease there, definetly it's my home.
I need to get ready to go! I get off at 7pm. I'm out!
Mood:

working